The Worlds Thinnest & Most Versatile Potentiometer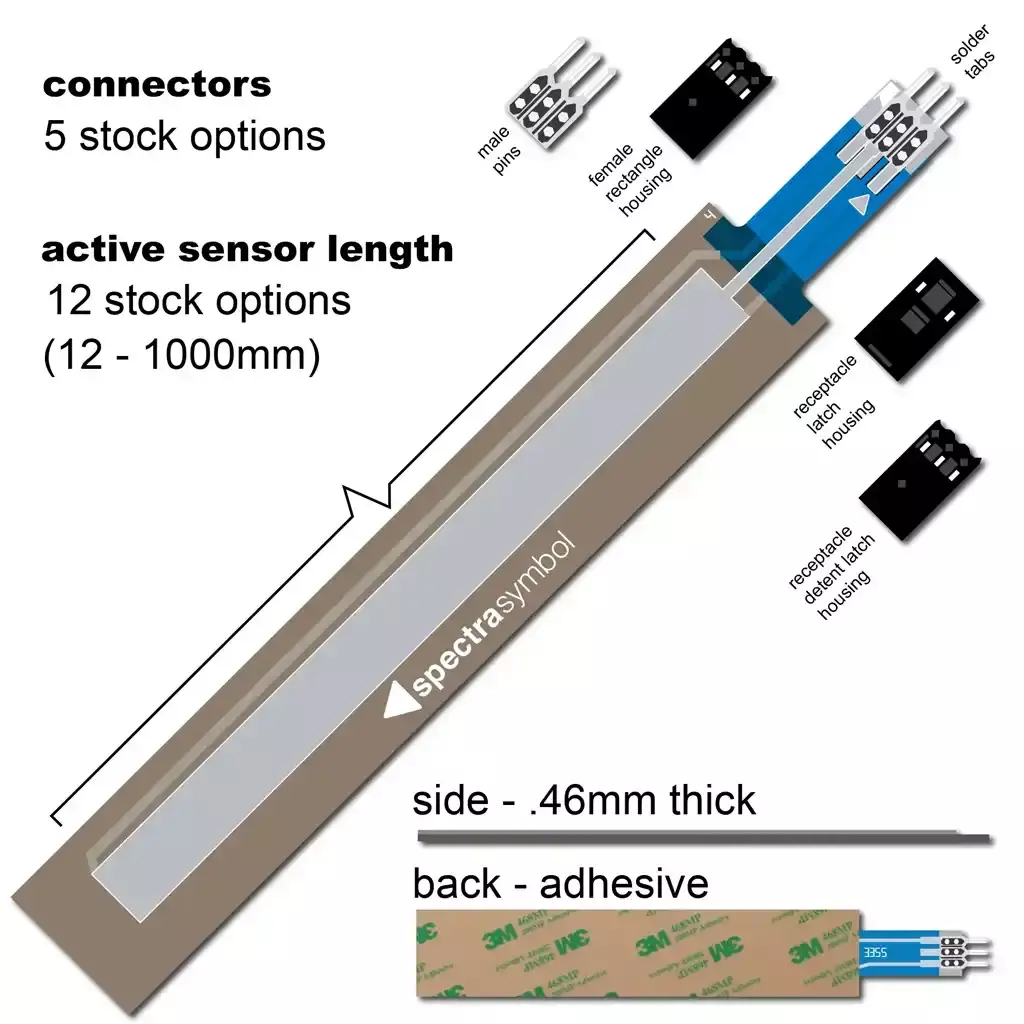 SoftPot Position Sensors as Input OR Output
The Spectra Symbol SoftPot potentiometer is a soft membrane potentiometer or position sensor that can be applied across
a wide range of applications
to control systems with precision or track position and acquire the preferred output. It is available in lengths ranging from 10mm to 2000mm with a low form factor under 0.5mm (membrane/component thickness), making the Spectra Symbol SoftPot the thinnest and lightest linear sensor available today. It is also economical and easy to use. You can simply mount it on a surface and activate it using a spring-loaded wiper fastened to the desired actuator.
The
linear variant of the SoftPot
works in multiple configurations, such as linear, serpentine, elliptical. The SoftPot is also available as a rotary potentiometer. It operates in temperatures ranging from -45°C to 50°C and is ideal for products that need a sealed sensor with a tight form factor. It's no wonder it became a popular option for clients in the medical, dental, space & and robotics industries (and more). The SofPot is also a versatile sensor that can operate by human touch. It can provide the desired linear output regardless of the shape of the product it's attached to.
Low Form-factor, Low Cost, Low Design Requirements
High Quality, High Reliability, High Accuracy
Spectra Symbol designs and manufactures custom soft membrane potentiometers for a large variety of applications.
Valuable Features of the SoftPot Potentiometer
Actuators are found wherever position is automated.
The membrane potentiometer technology offers a low form-factor for the feedback it provides.
Recommended for use whenever absolute position is required, and especially when space is limited within the application
The SoftPot is ideal for medical & similar environments that rarely get close to 50°C but require a sealed sensor and a tight form-factor.
SoftPot designs can be attractive as disposable instrumentation for its high-quantity for relatively low cost requirements.