Making the Already Ultra-Thin SoftPot Ultra-Narrow As Well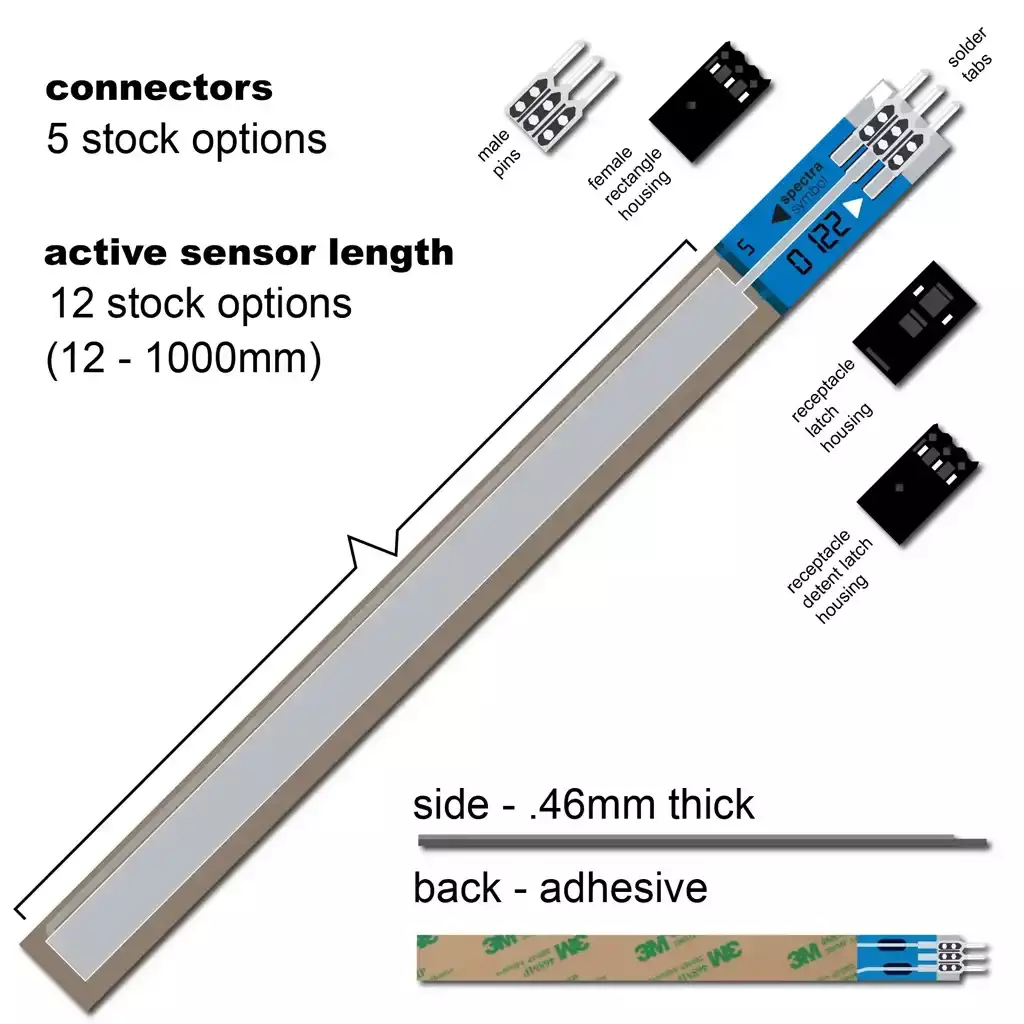 ThinPot is Our Advanced SoftPot for Tighter Spaces, Used as a Control Potentiometer or Position Tracking Sensor
The
ThinPot position sensor
is currently a medical standard for multinational companies such as Varian Oncology, Siemens, and Baxter Healthcare, while also being used in many other industrial applications. While
the SoftPot
was already very 'thin' we realized it could achieve even more compact dimensions by narrowing the component width. So while some call this a misnomer, as thickness and width are not the same, more customers approach us with concern to a maximally 'thin' component, and no matter which way you are looking at it, this is the 'thinnest' out there. Hence the "ThinPot" was born.
Spectra Symbol is a premier source for high quality low form-factor & narrow linear potentiometers. We offer a range of potentiometers with varying features to suit any application. Our line of linear sensors includes the ThinPot featured here, a component that serves as a variable analog voltage divider. This membrane potentiometer measures 10mm wide and 0.5mm thick, making it ideal for applications in even the most difficult locations. It has all the features offered by the SoftPot, but is half as wide. this sensor operates in linear or rotary configurations and is available in lengths of up to 2400mm.
At Spectra Symbol, we aim to provide the most appropriate component for our clients, which is why we offer custom products. We design the ThinPot to meet the varying needs and specifications of business. We also allow our customers to customize their sensors according to what their applications require. Upon request, we can change the shape, size, length, or number of tracks. Some clients even request for custom rotary diameters.
The ThinPot Potentiometer is a Narrower Variant of our Best-Selling SoftPot
Spectra Symbol designs and Manufactures the thinnest and narrowest custom potentiometers for a large variety of applications.
Valuable Features of the ThinPot SoftPot
Comes with pressure sensitive adhesive for easy mounting
Sealed for maximum durability and protection
Narrowest of all of our potentiometer variants
Made from high quality polyester substrate
Dust and splash proof
Arguably our most versatile series of potentiometer from a size & form-factor perspective