SPECTRAFLEX VS ORIGINAL FLEX SENSOR
Step into a new age of sensor technology with Spectra Symbol's advanced SpectraFlex™ Flex Sensors.
Spectra Symbol's Original Flex Sensor remains a high-quality standard across dozens of industries. The new SpectraFlex™ emerges to achieve maximum signal responsiveness & new heights of reliability.
We honor our legacy of
Original Flex Sensors
and bring you the next generation of sensor technology that enhances performance without compromising on the trusted quality you have come to expect from us... and our original flex sensors are still an incredible option for many applications.
A Leap Down in Weight and Thickness
The SpectraFlex™ Flex Sensor is a marvel of engineering, offering significant advancements in weight and thickness. Despite being lighter and thinner, it maintains the robustness and reliability you've loved in our Original Flex Sensors. This leap in design provides greater convenience & adaptability without sacrificing performance.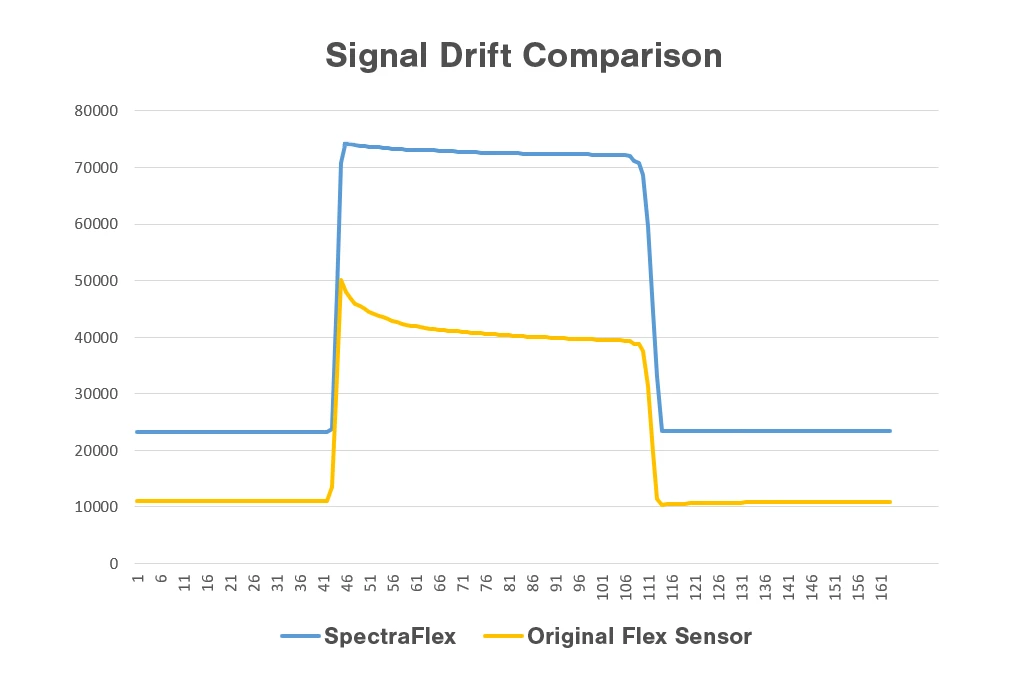 Groundbreaking Low Drift Technology
Say goodbye to
drift.
The SpectraFlex™ Flex Sensor is designed to minimize drift to nearly zero, addressing a challenge that occasionally surfaced with the Original Flex Sensors. This breakthrough in drift reduction brings unprecedented accuracy in the form of responsiveness.
Unbeatable Value with Cutting-Edge Manufacturing
In our relentless pursuit of excellence, we've harnessed the latest manufacturing techniques and process innovations. This allows us to offer the SpectraFlex™ Flex Sensors at an unbeatable price — the same or even lower than our Original Flex Sensors in some cases. Superior performance now comes with superior savings.
SpectraFlex™ Offers Lighter, Thinner, Longer-Lasting, More Responsive Precision at Nearly the Same Cost.
You Can't Go Wrong With SpectraFlex™ OR the Spectra Symbol's Original Flex Sensors.
An Ongoing Salute to the Original Flex Sensors
While we're excited about the SpectraFlex™ Flex Sensors, we uphold the significant value of our Original Flex Sensors. They remain an excellent choice for many applications, and their proven reliability has been the backbone of our success. We continue to support and sell these highly dependable sensors.
SpectraFlex™ and Original Flex Sensors: A Winning Combination
At Spectra Symbol, our goal is to offer you choices that fit your needs. Whether it's the advanced technology of our SpectraFlex™ Flex Sensors or the time-tested reliability of our Original Flex Sensors, we're committed to delivering high-quality, high-performance sensor solutions. Experience the evolution of precision with SpectraFlex™, and embrace the trusted legacy of our Original Flex Sensors. Contact our team for more information and to find the right sensor for your needs.